Have you been considering hiring a Denver stained glass company to make you some custom windows? If so, we'd like to throw our hat into the proverbial ring, for your consideration. Because Denver Stained Glass does custom work and has been in business for more than twenty successful years, we are confident we can create the exact windows you are looking for.
Of course, that's if you know just what you are looking for. But many of our clients only know that they have always loved stained glass and they would love some in their home. They want the elegance, the classic appeal, the added value and uniqueness, and the ageless beauty of stained glass, so they start looking for the right Denver stained glass company to create their vision.
It might be a vision with no specifics. Perhaps they know that the entryway is the place they want to add stained glass. But they have no idea of what kind of style, what kind of pattern, what kind of design, even what kinds of colors or types of glass they might want. That's where we can help.
This Denver stained glass company will send one of our design staff right to your home for an in-person, no-charge design consultation. Our designer will show you photos and samples, make sketches, look at your existing décor, and discuss ideas with you as to what would look fantastic in the proposed space.
In fact, clients tell us they love being included in the custom design process and enjoy their windows that much more because of it.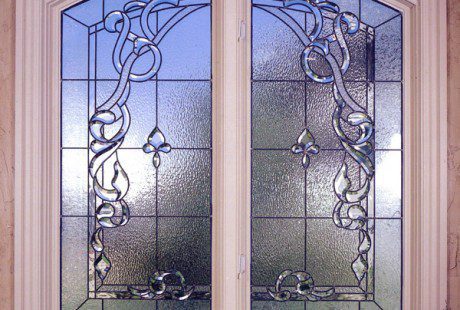 Most of our clients, even if they didn't know what style they wanted at first, definitely know what they like when they see it! "Oh, I just love Celtic designs." Or, "Yes, I've always loved the stained glass work of Frank Lloyd Wright. I want something similar to that."
If you'd like to take a look at some of the designs we have already done for previous clients, why not take a look through our photo galleries. We have galleries containing work we've done for entryways, for bathrooms, for transom windows, pretty much for every room in a home from basement to attic. Click here to see out main gallery.
Click here to see some of our kitchen cabinet designs. (This is one of our specialties, and a phenomenal way to make over your kitchen without a complete remodel.)
If you are searching for the right Denver stained glass company, we would love to show you what we can do and earn your business. Please contact us for an in-home appointment with one of our designers today.