Here at Denver Stained Glass, restoration of older and antique stained glass windows is one of our favorite parts of our business. Stained glass has been popular in residences and religious institutions for centuries. In the Denver area, many older neighborhoods contained antique stained glass windows that account for a large part of the home's charm.
Around the end of the nineteenth century and the beginning of the twentieth, church stained glass had a huge surge in popularity across the U.S. Many of these windows and doors are still intact today, but as they are around one hundred years old, they may just be in need of restoration.
When it comes to homes and churches in Denver, stained glass restoration is available. It can restore any stained glass panel to its original beauty and ensure it will last another hundred years, or even more.
When we do a restoration, particularly of a larger window, we use different construction and installation methods than were probably originally used, resulting in a sturdier, more secure stained glass installation. With a Denver Stained Glass restoration project (which can take months, depending on the size of the windows being restored), its best to contact us at the first sign the window needs work. Here are some of the signs a stained glass piece might need restoration:
Cracked pieces of glass
Glass falling out
Bowing or sagging
Extreme amounts of accumulated grime
Damaged, bent, brittle lead strips
Glass loose in the window
Denver Stained Glass restoration process: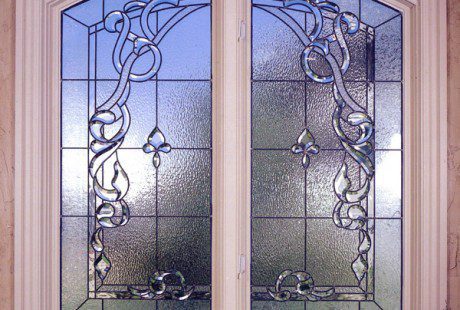 1. The first step is always to assess the condition of the stained glass window, door, ceiling, skylight, etc. This can sometimes be done via photographs our client sends us, showing the damage. After seeing what the window needs and its size, we can then give a bid for the job.
2. We take the window to our Colorado Springs studio, where most of our restoration work takes place. The glass soaks in a special cleansing solution which removes accumulated grime, cement, glue, etc.
3. We disassemble the window and find the glass required to replace the missing or damaged pieces.
4. We reassemble the stained glass window, using all new lead strips which might be reinforced on the inside for greater strength. This is particularly important with Denver Stained Glass restorations or larger windows.
5. We reinstall the window in its original location, adding a pane of clear glass to the outside for protection, and steel supports if necessary to better hold the weight over time.
For more information about Denver Stained Glass restoration processes and costs, please contact us today. We are always thrilled to have the opportunity to study the workmanship and design of the stained glass masters of earlier days and to ensure that their work remains available for generations to come.