When it comes to stained glass repair, Denver homeowners seem unsure of what to do. The fact is, stained glass windows have been around for centuries. Many of these stained glass pieces have even been handed down from generation to generation as family heirlooms. As you can imagine, over time these windows might have been damaged. After all, whether ancient or modern, glass is and always will be a rather fragile substance.
If this is the case with your treasured stained glass piece, Denver Stained Glass can help. But many people do not realize that even an antique can be repaired, restored, and re-polished so it regains the gorgeous look it had when it was new . . . but still continues to look like an antique.
Stained glass repair, Denver stained glass lovers are finding, is a much surer bet than they realized. The other day we got a phone call from a couple who had inherited an old Victorian home. It had three antique stained glass windows, dating back to the late nineteenth century. Two were in fantastic condition. But one had several pieces of cracked glass, and the lead strips holding the little pieces of glass together had bent over time, allowing all the glass to become loose and even fall out.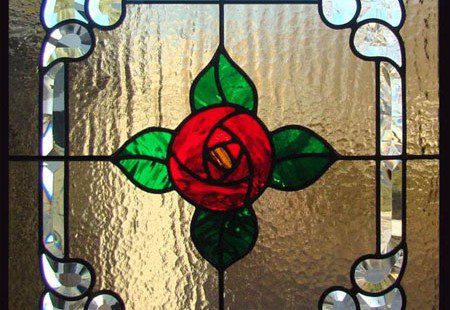 They asked us if we could possibly make a replica of the piece. Once we took a look, we said there was no need for a replica. Instead, we could restore the original. Stained glass repair, Denver art lovers know, is the best way to keep their antiques looking fantastic and keep their value intact. After all, stained glass does add value to a home.
Here's how we went about the stained glass repair project. We uninstalled their window and brought it back to our studio. Next, we made sure we could match the glass of both the cracked and missing glass pieces. This is usually no problem because we have hundreds of types and colors of glass available, and we work with the best glass manufacturers around the world. In this case, there was no difficulty finding an exact match.
We began disassembling the window from the edge closest to the cracked and missing pieces. We took it apart just far enough to replace the damaged parts. Then we reassembled it, cleaned it, polished it, and reinstalled it into our client's window. They were ecstatic! But that created another stained glass repair, Denver style problem. Because the new window now looked so much better than the two that were undamaged. We wound up cleaning and polishing those as well.
If you are looking for stained glass repair, Denver or anywhere on the Front Range, why not give Denver Stained Glass a call today?