If you are a fan of stained glass or are at all familiar with stained glass, you probably already know how many variations there are. Styles, colors, textures, applications, etc. One application that isn't the most common but looks amazing is exterior lantern stained glass. Imagine how amazing your home would look if it had stained glass lamp shades in the same style as your windows.
Stained glass lamps have long been popular for both the interiors and exteriors of homes. Famous architects and designers such as Frank Lloyd Wright and Charles Rennie Mackintosh designed many of their iconic buildings with both stained glass windows and stained glass lamps and other kinds of lighting.
Probably everyone reading is familiar with the most popular of the interior kind of stained glass lamps, the Tiffany lampshade. These have been copied in all different price ranges and can be found today in many shops and homes.
But perhaps exterior stained glass lamps are a bit less known and a bit more unusual. They can be crafted in various different ways. One of the most gorgeous and dramatic is the lamp post style with the box shaped shade. Instead of using plain old glass or plain frosted glass, why not stained or leaded glass? This will give your lamp a whole different, high-end look. And if you already have a stained glass entryway, adding a stained glass exterior lamp using the same glass and similar pattern will really give your home a polished, sophisticated and unique designer look and feel.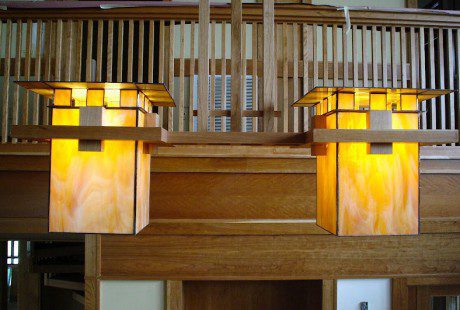 Do you have an external light in your entryway? Most homes come with this feature. Frequently these lights are pretty boring, pretty standard, pretty utilitarian. Replacing your entryway light with a colorful stained glass lamp will really light up your home in a whole new way.
When it comes to stained glass lamps, like all our custom products, they can be made of colored glass, clear and textured glass, or anything in between. It's all up to your taste and what will look fantastic with your home. Remember, all our stained glass is custom made to your order, your needs, your style.
There's no need to worry that stained glass is too fragile to make an exterior lamp from. Remember, stained glass has been popular for centuries, and much antique stained glass is still intact today, particularly in the elegant homes and cathedrals of Europe. We make our product to the most exacting standards, using the highest quality materials and construction methods that will allow your stained glass lamp will last.
Have we got you at least a bit intrigued about the possibility of a stained glass lamp, either inside or out? Good! Why not contact us today to make an appointment with one of our stained glass designers right in your home or office.