In Denver, stained glass repair might just be something you are looking for. Many of Denver's older homes in various different neighborhoods were originally built with one or more stained glass windows or door panels. And over time, those stained glass panels might have become damaged and in need of repair.
Here at Denver Stained Glass, we have two decades in the stained glass business, including repairing and restoring many beautiful stained glass pieces over the years. And that isn't just windows, either. You might have a stained glass lighting fixture or a stained glass hanging panel in need of repair.
Many stained glass owners contact us wondering if it's worth it to have their antique piece repaired. Our answer: it depends on the damage. Our process for determining the cost of a Denver stained glass repair is simple. We will need to come and look at the piece and assess the damage.
But in most cases, when we are talking about antique stained glass, repairing it is well worthwhile and will give you a piece that is worth much more than if you had a brand new stained glass panel built.
At our studio in Denver, stained glass repair is carried out with painstaking attention to detail. To keeping the original feeling of the piece. And restoring it to its original beauty and luster. There are various things that can happen to a piece of stained glass over the years that would require repair.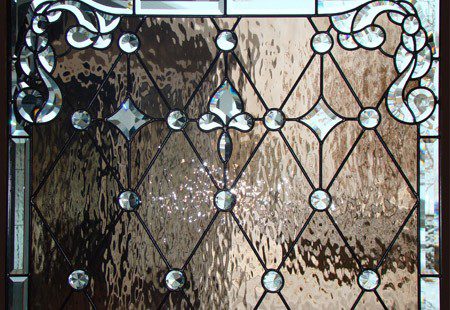 1. Pieces of glass are chipped or cracked.
2. Pieces of glass are missing entirely.
3. The entire window is bowed.
4. The lead strips holding it together are warped, brittle, or cracked.
5. The window is grime encrusted and difficult to get clean.
After we assess the needs of your window, we can advise you as to how we could repair it and give you a price for the job. If there are cracked or missing pieces of glass, the window would need to be partially disassembled, just enough to allow us to access those damaged pieces, removed them, and replace them with matching glass.
If it is the lead strips that are the problem, we would disassemble the entire window and reassemble it with new lead caming. For Denver, stained glass repair can restore even an antique piece to its original glory, and the best part is with the use of our special dark leads and ability to match almost any glass, your window will still look like an antique.
If you need stained glass repair in Denver or the surrounding areas, please contact us today for more information.