When it comes to church stained glass, most people think of traditional chapels with massive stained glass windows that tell a story from the bible. This style of stained glass is beautiful and well known. It's been around for centuries. In fact, the magnificent stained glass windows that tell their stories in ancient cathedrals across Europe's are one of that continent's biggest tourist attractions. The oldest ones are over 900 years young.
Take a look at some of these magnificent cathedral windows here.
However, not all church stained glass is the same; not these days. Churches today all have their own flavor, their own unique style. Denver Stained Glass can design custom stained glass to fit your church's and your congregation's particular style.
Of course, the religious style is still ever popular. Religious icons and symbology, bible scenes, saints, and the like make an incredible visual statement. Once upon a time, the purpose of church stained glass was to instruct the worshippers, many of whom could not read the bible because they could not read at all.
These days, many churches commission stained glass that is much more modern in design. Still brightly colored, but a bit more contemporary. At Denver Stained Glass, we collaborate with you on the design. One of our designers will come to your facility, and together you will create the church stained glass windows or doors that fit your needs and your tastes.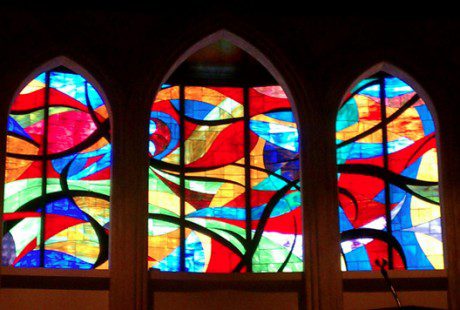 Take a look at our religious stained glass gallery to get some ideas of what's possible. But remember, when it comes to custom stained glass, the only limits are those of your imagination. And of course, your budget. At Denver Stained Glass, we are happy to work with you to create gorgeous, hand-crafted church stained glass that fits your budget as well.
As you'll see in our gallery, the sky – or should we say "the heavens" – are the limit when it comes to stained glass. Any style, any colors, any sizes or shapes are possible.
Religious stained glass is an ancient tradition. Adding stained glass windows to your church will align it with this beautiful tradition, uplift your congregation, and add something even more special to what you are already offering, because art is truly a great gift. And stained glass is truly a great art form. That's why it's lasted as long as it has already.
Which type of stained glass is right for your church, chapel, cathedral, seminary, or other kind of house of worship? Classic religious, modern religious, or not even religious at all?
If you would like to explore the options for religious and church stained glass, why not contact us today? We have over two decades of experience, thousands of delighted customers, and we would love to earn your business!