When you think of anything custom, you probably think of a unique one of a kind design. With these sorts of unique one of a kind designs comes unique builds as well. Stained glass is no different from any other custom-built piece. Denver Stained Glass not only designs custom stained glass pieces, but also builds and installs those pieces.
Your custom stained glass can be for any size or shape window in any area of your home. No size is too large or too small. We even custom build stained glass panels for half moon or completely round windows.
The reason all our work is custom designed is because each piece is made to your specifications. You will choose pattern, style, colors, even the type of glass that you want for your stained glass windows. There are a huge amount of patterns to choose from that we have already created, and we stand ready, willing and able to create something brand new and unique.
Our custom builds are done in the tradition of master stained glass craftsmen for centuries past, with a few modern tweaks. To ensure that we build your panel to the exact measurements of your window or door panel, we use CAD technology. And our installation techniques vary, because we customize them as well to fit the specific area of your home the stained glass will be placed in. For instance, entryway stained glass is handled differently upon installation than a stained glass shower door or bathroom window.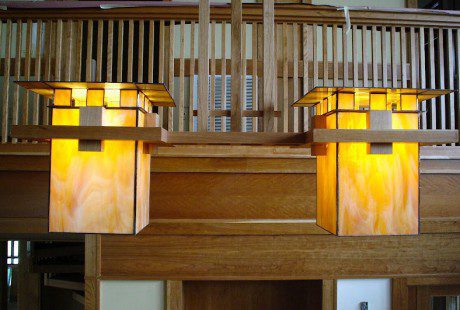 When it comes to our custom builds, we use our computer generated pattern as an exact blueprint, but at this point, hand work takes over. Our master artisans still cut ever single piece of glass by hand, following the pattern. This might be few pieces or many tiny pieces, but that is how we do it. Each strip of lead that lies in between the glass is also measured and cut by hand. Not surprisingly, the entire stained glass window is assembled by hand, soldered together by hand, polished by hand, and installed by hand.
The term, "hand-crafted" is thrown around all over the place to the point where it has lost some of its meaning, but when you commission a piece of stained glass from Denver Stained Glass, you are truly receiving a hand-crafted product. Our method of custom builds assures that!
We know your home is your would-be castle. We know you have chosen each color scheme, each room's décor, each piece of furnishing carefully, to create a pleasing and harmonious whole. You can do the exact same thing with Denver Stained glass, taking advantage of our custom designs, our custom builds, and the twenty plus years of experience we bring to the work table.
For more information, please contact us today. We will set up a no-cost appointment with one of our designers, and you will soon have the custom designed stained glass of your choice.