Here at Denver Stained Glass our entire staff is in agreement: we absolutely love working on custom church stained glass. Why? There are a variety of different reasons.
1. With custom church stained glass, Denver houses of worship can get the exact style and design they want with the exact colors they want. And we love working with churches to help create these designs, whether they are traditionally religious in nature or more modern and esoteric.
2. With custom church stained glass, Denver Stained Glass' talented artisans get to work on projects that are frequently much larger and more intricate than the work we do in peoples' homes. And since our artisans hand cut and hand assemble every piece of glass, they take great pride in their work. The love working on these big, colorful, striking pieces.
3. With custom church stained glass, Denver's churches, temples, and other religious institutions can join the long and venerable religious stained glass tradition dating back hundreds of years. As stained glass designers and craftsmen, we so appreciate these masters who came before us and their gorgeous works. We are particularly thrilled with the incredible religious stained glass art that is still intact in churches and cathedrals all across Europe. And we love being a part of that tradition.
4. With custom church stained glass, Denver churches can have custom designed art that represents their beliefs, their way of worshipping, and that complements their building's architecture as well.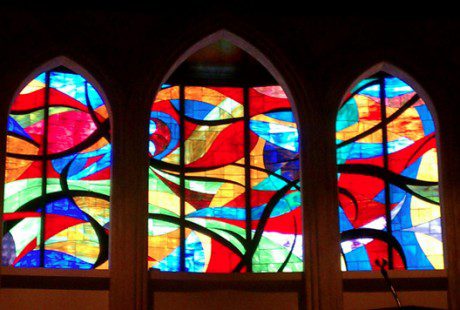 Would you like to see some of the many different pieces of church stained glass we have custom designed for clients over the past couple of decades? We think you will be amazed by the variety of our custom work and how each piece is custom designed to meet that particular churches needs and the tastes of its congregation.
Click here to take a look through our religious stained glass Denver photo gallery.
Our process is quite simple. If you are looking for church stained glass in Denver or anywhere on the Front Range, all you have to do is call us for an appointment. We will send one of our talented and highly experienced designers right to your church. Together, you will work on the design until we have sketched something that meets your approval.
At that point, we will finalize the pattern using specific computer design software, ensuring an exact fit in your church or temple's windows. The supplies are ordered. And the project is assigned to one master craftsman to build. When finished, one of our installers will complete the job.
For more information about custom designed church stained glass, Denver or across Colorado, please contact us today.