If you are a fan of stained glass, you already know how beautiful it can be when light is shining through. Did you know that stained glass can be custom designed and installed in any room of your home, including your bathroom? Bathroom stained glass, Denver homeowners are discovering, is the perfect solution to a couple of different problems.
Many people are surprised to hear that we believe stained glass is a problem solver in a home, along with being a piece of art. The main problem it solves? Privacy. And nowhere in the home do we want more privacy than in the bathroom, right? For bathroom stained glass, Denver homeowners turn to Denver Stained Glass to solve their privacy issues without blocking the natural light.
There are a variety of different places in a bathroom that one might want to install stained glass, and a few that we bet you never thought of. Hint: Where there's glass, there can be stained glass! So any bathroom or shower windows are the obvious choice. While they are usually made of frosted glass, that is not always the case.
If your bathroom windows open too close to a neighbor's home or onto a well-used backyard, then frosted clear stained glass is the perfect solution. Privacy, but light! Bathroom stained glass, Denver businesses are also realizing, can solve the problem of bathroom windows that open onto an ugly industrial view.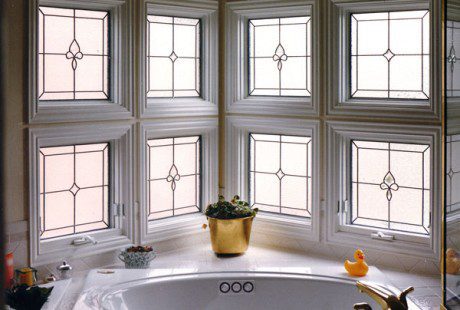 But what about your sliding glass shower door, or your entire glass shower enclosure? Perhaps you are just not comfortable with that. Aside from the enhanced privacy, imagine the style impact of adding stained glass to your shower. And if you'd really like to tie in the stained glass motif for even more impact, would you consider stained glass cabinet door inserts?
When it comes to bathroom stained glass, Denver residents are requesting it more and more. If you think about it, you have probably spent a lot of time and money decorating your house. You walls are probably adorned with carefully chosen artwork. But artwork in the bathroom is a tricky proposition, because of the moisture content. Stained glass is the perfect art alternative. When we install it in a bathroom, we sandwich it between two sheets of regular glass, so it is fully protected from moisture or humidity, even in the shower.
Check out our bathroom stained glass Denver photo gallery to get a sense of how we can transform your bathroom. And then, please give us a call to schedule your in-home design consultation today.