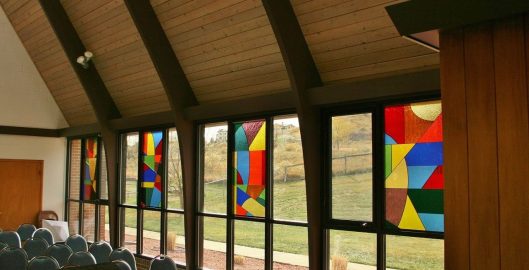 Stained Glass Windows As Art
Often times when people think about stained glass they associate it with churches right off the bat–and that makes sense since stained glass is practically ubiquitous to cathedrals, churches, synagogues and even mosques. Likely, stained glass is next most associated, in people's minds with the victorian or craftsman eras of design. Anyone who owns a home built in either of those eras in fact probably has antique stained glass somewhere in their house already. This is in large part due to the fact that, during the mid to early 20th century designers like Frank Lloyd Wright and Greene and Greene, made the connection in American's minds between home decor and stained glass. This ushered in a happy "new" tradition in modern stained glass design that continues in decor. At Denver Stained Glass we thrilled each day to carry on the work of design masters such as Frank Lloyd Wright and others who had such incredible influence on the path of stained glass and what we see on homes today.
Frank Lloyd Wright Style Stained Glass
The Numerous Practical Reasons For Stained Glass
There is no question that stained glass is a stunning work of art. But did you know it is often called a "practical art"? This is because it is an extremely versatile medium which can be customized to suit nearly any design style or taste. In today's day and age, stained glass can be used in nearly any room in the in a house (bathroom, kitchen, living room, entryway) and used functionally as cabinet doors or even a fireplace screen. It is truly fascinating how stained glass is able to function as both art and as a practical solution for privacy issues.
Some other, just as important, reasons why you might consider installing stained glass:
• Stained glass is a beautiful privacy option– especially useful for spaces like bathrooms or bedrooms.
• Stained glass can block an unattractive view like a vacant lot or a close neighbor
• Stained glass can express your personal tastes and act as a centerpiece for a design overhaul.
The truth is, it doesn't matter where you put stained glass because it is always sure to steal the show! Likewise, you are guaranteed to enjoy the elegance it provides daily. In fact, like most of our customers, you will probably find reasons to fall in love with it all over again day in and day out!
If you live in Colorado and are considering a stained glass window to brighten your decor, contact Denver Stained Glass today and let's get going an heirloom quality piece of glass for you and your family to enjoy for generations to come!