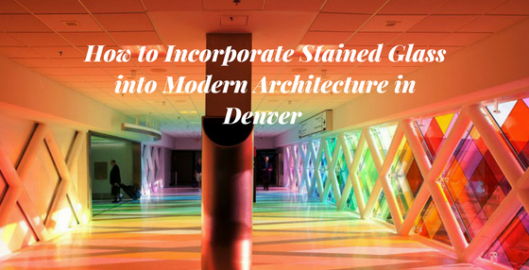 Stained glass is often considered an antique art form with a more traditional composition and imagery. Although traditional forms of stained glass are still featured in many homes and commercial buildings in Denver, new stained glass is actually being incorporated in modern architecture in the most beautiful way. Stained glass artisans are really transforming the use of this unique medium to compliment contemporary commercial and residential properties. With endless colors, textures, and design options, stained glass offers so many creative, artistic directions.

Beautiful Ways to Use Colorful Stained Glass in Commercial Buildings
Stained glass can be used in a multitude of modern designs showcased in Denver's commercial buildings. Colorful stained glass can be incorporated with lighting features– great with natural sunlight and electronic lighting. Splashes of color can be utilized as backdrops, little features, and more in virtually any commercial space. Colorful stained glass can also be used as modern privacy feature, dividing bar areas, public restrooms, and more. Exterior use in Denver's commercial building facades and balconies are also increasing in popularity. Stained glass can also be used to create custom door logos and heighten brand visualization.
Stained Glass Provides Unique Decor Elements in Modern Homes
Both colorful and clear stained glass can offer a beautifully unique decor element in Denver modern homes. Whether you need a privacy solution for your bathroom or home office, stained glass allows virtually any creative direction for any contemporary style home. Splashes of color or a complete mirage of colors can really compliment any area of your home. Clear stained glass, or leaded glass, also offers that elegant, modern aesthetic many Denver homeowners are seeking. Stained glass can be incorporated in cabinets, home bars, lighting elements, and more.
For more information regarding modern stained glass in both commercial and residential applications in Denver, give us a call: (720) 509-1919