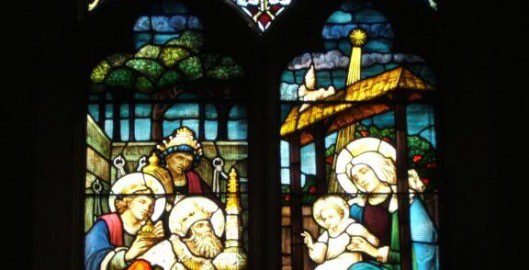 Denver's well-known for being one of the highest cities in the United States, but it also has a deep, rich history. It was originally founded as a mining town after the Pikes Peak Gold Rush in 1858. After the construction of the railroad, the city flourished and soon many homes, churches, and commercial buildings were established in the area.

The Top 5 Most Beautiful Historic Stained Glass Windows in Denver
Due to this reason, it's now the site of some of the most amazing historic architecture in the entire country. And of course, where there's finely crafted architecture, there's also stained glass. In a city that's hosted so many talented artists over the years, it's difficult to decide which of these historic stained glass windows in Denver are the most beautiful. Therefore, we consulted the experts at Denver Stained Glass about the matter and they narrowed it down to these top five stained glass windows.
1. Saint John's Cathedral Stained Glass Windows

photo credit: City-Data
Originally established as Saint John's in the Wilderness, the history of this church dates back to the late 1800's. After the first cathedral burnt down in 1903, the construction of what is now Saint John's Cathedral began in 1909.
2. The Cathedral Basilica of the Immaculate Conception Stained Glass

photo credit: Only in Your State
The Royal Bavarian Art Institute of Munich produced over 75 religious stained glass windows for this church.
3. United States Air Force Academy Cadet Chapel Stained Glass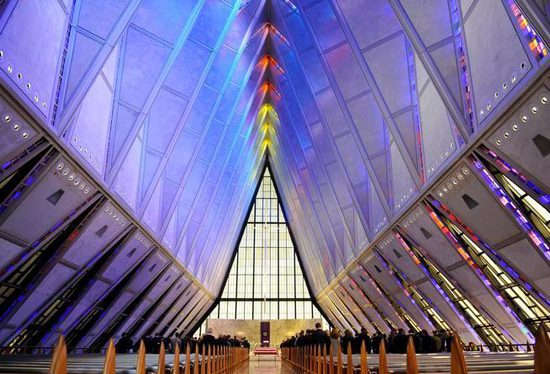 photo credit: The Denver Post
The most amazing architectural feature in this building is its row of seventeen massive spires. The tetrahedrons between the spires are filled with mosaic colored stained glass.
4. Emily Griffith Stained Glass Window

photo credit: Wikipedia user
Located in the Colorado State Capitol Building, this stained glass window of Colorado educator Emily Griffith is just one of the many beautiful stained glass installations in the building.
5. The Brown Palace Hotel Atrium Stained Glass Ceiling

Photo credit: Wikipedia user
Rumored to be haunted, the Brown Palace is an eerie and romantic hotel that features some of the most beautiful stained glass in all of Denver. Many weddings, celebrations, and other special events are often held in this historic building due to its immense beauty and intriguing history.