Many people own heirlooms or antiques that have been passed down through several generations of their family. Given to them by someone they love dearly such as their parents or grandparents, these items are usually treasured by their owners. Many people eagerly await the moment that they can pass on their precious heirloom to their children and thereby do their part to keep their family tradition alive.

Start a New Tradition with a Family Crest Stained Glass Heirloom
If you like the idea of passing on an heirloom to your family, you should consider a stained glass panel designed with your family crest. A family crest is an important symbol that represents the values and history of your family. Because many family crests originated hundreds of years ago, they're also representative of your family's ancestral culture and heritage. A family crest stained glass panel is a unique and creative way to say "I love you forever."
The Scottish Difference for Your Custom Stained Glass
At Scottish, we're experts in creating unique and beautiful custom stained glass. Our owner, Martin Faith, is a collector of antique Scottish stained glass and therefore has a large amount of personal experience with traditional stained glass designs. When you choose Denver Stained Glass to design your family crest stained glass panel, you're getting the assistance of professionals who have a vast amount of knowledge about this form of art.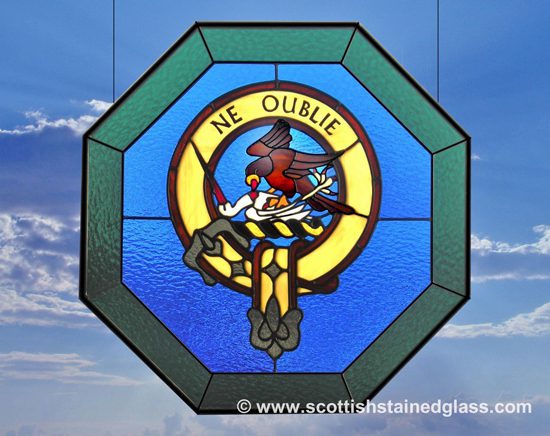 Fully Customize Your Art to Meet Your Exact Desires
The most wonderful thing about designing a new family heirloom is that you're completely in control of its appearance. You can completely customize your stained glass panel, sign, or window with a variety of colors, textures, and features. Create a gorgeous work of art that you know your family will cherish for several generations.
Completed to Perfection with Your Unique Family Crest
If you already have a family crest, our designers will do their best to recreate the original illustration. Or if you want to create your family crest from scratch, we will help you design your art so that it's a beautiful representation of your family's value and history.
Contact Us for a Custom Family Crest Stained Glass Heirloom in Denver
Your family means the world to you. That's why you should give them a gift that's extraordinary. Contact Denver Stained Glass today to get started on designing your custom family stained glass heirloom in Denver.