One question that we're frequently asked is how long can an entryway be expected to last? The answer to this question depends on how well the door was made and what materials were used. Many doors and entryways that are mass produced by large manufacturing companies last for approximately ten years or less due to the intensity of the weather here in Colorado.
But a custom stained glass entryway from Denver's Scottish Stained Glass is an entirely different story. Due to the high quality of our materials and expert skill of our artisans, our stained glass entryways have the ability to last the entire lifetime of your home.

The Design Process for Your Custom Entryway
Our unique design process is part of what ensures the quality and durability of your new entryway. Although every installation is different, it usually includes the follow steps:
1. Drafting a plan
As with all beautiful works of art, your custom stained glass entryway starts with a plan. We begin by drafting a design for your new entryway based on your desires and ideas.
2. Constructing a unique stained glass panel
Once the design is customized to your satisfaction, we begin to construct your stained glass installation. This stained glass panel will serve as a focal point in your entryway and provide your family with a high level of privacy.
3. Building a door to encase the stained glass
Then, a custom door is created to encase your new stained glass design that is much thicker and heavier than a standard door. Our experts will select a wood for your door that has the right moisture content so that it can withstand warping and twisting. Then the wood is stained, glazed, and sealed. We can also build framing for your sidelights or transom at this time.
4. Installing your new entryway in your home
Your old entryway is removed from your home so that the new one can be installed. New hardware is added to the door in addition to a weatherproofing seal that ensures a tight fit when the door closes.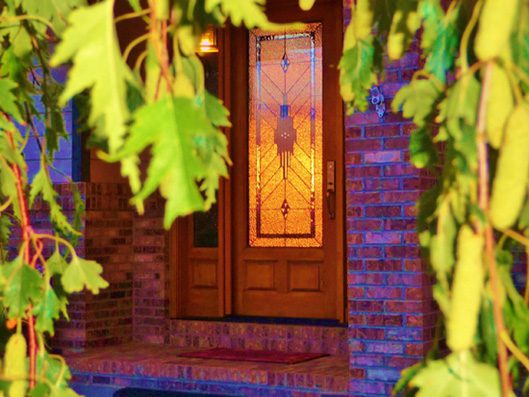 Trust Scottish with Creating Your Custom Stained Glass Entryway in Denver
When it comes down to it, the high quality of our custom stained glass entryways can't be matched by any other competitor. That's why we've built a name for ourselves as the most trusted stained glass supplier in Colorado. Call us today to get started on your custom stained glass entryway for your Denver home.